There is a great resource that some of you might have heard of, called
Coursera
. It is a website with a collection of online classes offered from top universities around the world that you can take for free. Sound good? It's great!
You can take many of them in real time and follow along with a class, with weekly lectures and assignments, and you even get a certificate of completion at the end. Or, you can look into the archive for a class that has already happened, and use the material at your own pace.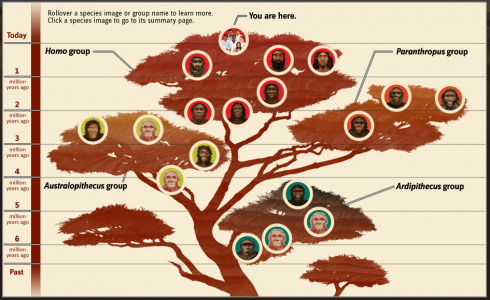 The courses cover loads of topics and disciplines, from medicine to computer science to nutrition, but I thought I'd share some links to ones that might be interesting for students of human evolution:
(already started):
Archaeology's Dirty Little Secret,
Brown University
Beginning July 7th:
A Brief History of Humankind
, University of Jerusalem
Beginning August 19th:
Animal Behaviour,
University of Melbourne
Beginning January 3rd 2014:
Introduction to Genetics and Evolution
, Duke University
Beginning January 21st 2014:
Human Evolution: Past and Future,
University of Wisconsin-Madison
I've been perusing a course on
Writing in the Sciences
, which has video lectures of powerpoint presentations, led by an instructor, and I'm finding it really useful. I'm sure this course,
Introduction to Public Speaking
, might be useful for the student as well!
I've signed up for Human Evolution: Past and Future, which is being run by the lovely John Hawks of
John Hawks' Weblog
. You can read his posts about MOOCs, or 'Massive Open Online Courses" here:
http://johnhawks.net/taxonomy/term/1380
.